While many of us don't strive to be like the pros, we can all take some lessons from the historic careers of some of the best in the game.
In this issue, we're going to explore the remarkable streaks held by Tiger Woods. At the end, I will share 3 strategies you can STEAL from him to improve YOUR game.
Tiger's INCREDIBLE streaks and records over the years
You probably know that Tiger is one of the greats. But did you know he has some of the most INSANE streaks in sports history?
These are not just impressive; they are shocking.
Streak 1: Tiger was world #1 for 13 years
While his longest consecutive streak was 281 weeks (5.4 years), Tiger was "World #1" for... A LONG time.
1994-2004 for 264-straight weeks
2005-2010 for 281-straight weeks
2013-2014 for 60-straight weeks
Tiger ranked in the top spot for a total of 683 weeks during the 1997-2014 period. That's 13 years of being "the best".
And remember, that ranking is based on performance. Tiger had to prove himself each year to remain in this spot.
Streak 2: Tiger made 142 consecutive cuts
Tiger made 142 consecutive cuts on the PGA Tour from 1998-2003.
To put that in perspective, Jack Nicklaus's best streak was 105, and even the best players in the world like Phil Mickelson and Rory Mcilroy struggle to make every cut in a calendar year.
Streak 3: Tiger won 7 times in a row
No other tour pro from the modern era came close to matching some of these remarkable winning streaks:
Tiger won 4 major championships in a row from 2000-2001 in what the golf world calls the "Tiger Slam" (since he didn't win all 4 in the same year)
Tiger won 5 events in a row during the 2007-2008 season
Tiger won 6 events in a row during the 1999-2000 season
Tiger won 7 events in a row during the 2006-2007 season
While Byron Nelson tops this with his 11-straight wins back in 1945, no tour pro in the modern era has even come close to Tiger's win streaks. Many players like Dustin Johnson, Rory Mcilroy, Vijay Singh, and Tom Watson have posted streaks of 3 tournaments in a row, but none at the elusive 5, 6, and 7 in a row marks!
Streak 4: Tiger never chokes
When he has the 54 hole lead, Tiger is 14-1 in his career.
The adage, "everyone has a bad day" does NOT apply to Tiger on Sunday.
Tiger's Average Stats from 1996-2010
Now let's take a look at some average statistics throughout his career.
From 1996-2003, Tiger worked with his coach Butch Harmon. During this time, he held a scoring average of 68.72 and a remarkable 71.27% GIR percentage.
That GIR percentage was his average during this time period and would put him in the #3 spot on tour in the 2023 season.
Let's move on to the "Hank Haney Era" from 2004-2010:
While his driving accuracy clearly suffered over this time period, Tiger kept up with his ball-striking and hit 69.41% of greens.
At this point, you're probably thinking, "Great, but Zach, I'm not that good! How can I use this to improve MY game?"
Let's dig into some of the strategies that Tiger has used throughout his career that you can steal and implement in your own game.
3 of Tiger's BEST strategies for more consistent golf
While I could easily make this list 10x the size, here are the BEST strategies we can take from Tiger's game that I believe will help most golfers shoot lower scores overnight.
Strategy 1: Set a round focus + scoring goal
If you listen to Tiger in post-round interviews, you will notice that he always has a scoring goal and round focus in mind.
Let's remember, Tiger is 14-1 when he has the 54-hole lead. I've watched him win a lot of tournaments over the years, and something I noticed about his post-victory interviews is that he always says something along the lines of...
"Given the conditions, I thought a good score would be 68. My goal today was to make no bogeys, birdie a couple par 5s, and hit my goal of 68."
While I'm paraphrasing here, there is a lot to learn from this. You'll often hear from myself and others that you should be "process oriented" in golf, forget about your score, and focus on the shot at hand.
Not Tiger.
Tiger always has a scoring goal in mind, watches the leaderboard down the stretch, and competes.
In your next round, set yourself a scoring goal. Be realistic about it and consider the weather conditions.
For some golfers, having the end goal in mind has a dramatic effect on their game because it forces them to hit the shots required to reach that goal.
For example, if your goal is a 78, you probably...
Don't need to go for every par 5 in two—just the ones without too much trouble
Don't need to shoot at every pin—just the pins from less than 120 yards
But if your goal is 65... You probably need to play more aggressively! In the rare cases Tiger is a few shots back going into Sunday, you'll often hear him say, "I think I'll probably need a 63 or 64 today, so I'm going to fire at some pins and see what happens". He has changed his strategy based on the goal.
Strategy 2: Build a repeatable pre-shot routine
In my Break 90 in 90 Days course, I have a module where we take a look at Tiger Woods and his pre-shot routine over the years (early 2000s to modern day).
The conclusion?
It's the same. Every time, over many years.
3 practice swings
2 waggles
14-15 seconds from the time he steps into the shot until hitting the ball
Why does this matter?
Because your pre-shot routine is how you bring consistency to your golf game. It doesn't matter WHAT it looks like, just make sure you are doing the same things every time you hit a golf shot.
If you find yourself struggling to "get comfortable" over the ball, it might be your lack of routine that is causing it.
Strategy 3: Don't aim at the pin
Tiger is the king of strategy. He's famous for keeping the driver in the bag and hitting higher percentage clubs off the tee. Heck, during one Open Championship, he hit ZERO drivers.
One of the hardest holes in golf is the 12th hole at Augusta National on Sunday.
The pin is always back-right. The wind is always swirling. The players are nervous.
Take a guess where Tiger has hit it EVERY SINGLE TIME he has won the Masters?
Front-left of the green.
Why?
Because front-left has a lot more margin for error than trying to shoot at the back-right pin.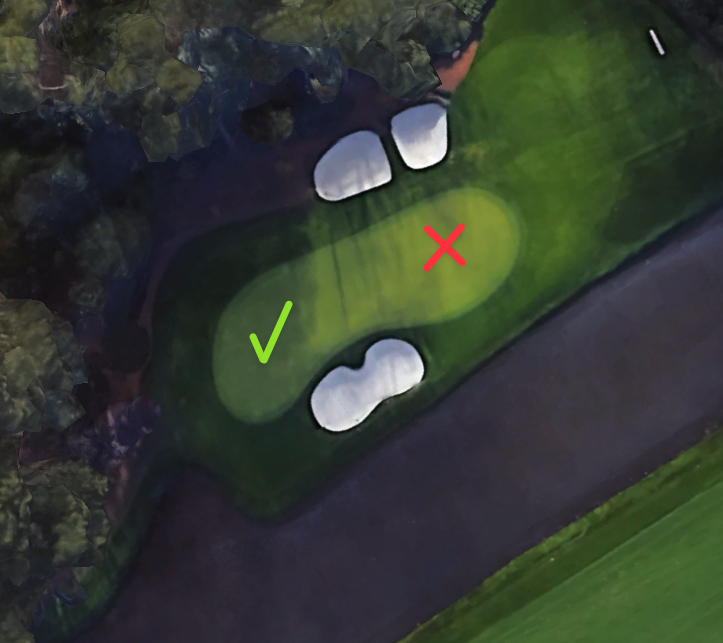 Tiger knows that the field will lose strokes on this hole, so he takes his 2-putt par and moves on to the less-risky closing stretch of holes where he can pick up some birdies.
While many of you probably cannot aim your approach shots quite as well as Tiger can, the idea still stands.
REMEMBER: Always aim to the portion of the green where a 10 yard miss in ANY direction is the least penalizing.
Sometimes, there is no safe area of the green. In those situations, do your best to fully commit to your shot and let it rip!
Below is a video of me explaining my par 3 strategy when between club distances. It is an excellent example of this concept. I chose the club and starting target that would give me the most margin for error, and ended up knocking it close anyways!
---
Video of the week
---
Whenever you're ready, there are 3 ways I can help you:
1/
Learn the EXACT framework I use to break 80 every time I walk on the golf course, regardless of how my game feels that day. I'll show you the mindset, shotmaking strategies, how to get more out of your limited practice time, and SO MUCH MORE. Get started today.
2/
Learn EVERYTHING it takes to break 90, including how to hit the driver more consistently, my secret to great approach shots, and so much more. Join 600+ students.
3/
Sponsor this newsletter
Promote your brand to 7,500+ subscribers by sponsoring this newsletter.
---
Photo attribution: KA Sports Photos from Hanover, MD, USA via Wikimedia Commons